Caribbean Cruise with Texas Ranch and Galveston Stays
Departure Dates: Jun 2017 - Apr 2019
Duration: 14 nights
This cruise holiday is like no other combining a four nights Full Board Texas Ranch adventure at the Mayan Ranch in Bandera, Texas with a two nights stay in 4* hotel in Galveston, Texas followed by a seven night relaxing Caribbean cruise, including car hire and return flights from the UK.
Fly to Austin, Texas; collect your car from the airport and drive to the Ranch where you'll stay for four nights, you will then drive to the city of Galveston where you'll spend two nights in a 4* central hotel. After dropping off the car, transfer to the cruise terminal and embark on the Carnival Freedom for an amazing seven night full board Caribbean cruise with a choice of two itineraries then fly back to the UK
ITINERARY A
Galveston, Texas - Cozumel, Mexico - George Town, Grand Cayman - Montego Bay, Jamaica - Galveston, Texas.
ITINERARY B
Galveston, Texas - Cozumel, Mexico - Belize City, Belize - Roatan, Honduras – Galveston, Texas.
Mayan Ranch, Bandera:
Number 4 on trip advisor, this highly rated real Texas working ranch set over 348 acres from the lowlands of the Medina River to high in the hills for a panoramic view of the valleys beyond. Bandera is only 10 minutes away where there's always music playing in the many hole-in-the-wall cowboy bars. It is also located within easy reach of the city of San Antonio, the second largest city in Texas. The Mayan Ranch is the perfect Western getaway to unwind and relax and enjoy Texas cowboys' hospitality. The Mayan Ranch has been owned and operated by the Hicks family for over half a century. Hidden behind the western scene are fantastic up-to-date- facilities and amenities with modern en-suite rooms for your convenience. A real working ranch where real cowboys work the horses and compete in rodeos, and where hearty, Texas-sized meals are served

Carnival Freedom is part of the Freedom Class ships. It includes the Carnival Seaside Theatre; a 12-foot by 22-foot LED screen located by the pool on the Lido deck. There are extensive public rooms offering the ultimate playground to over 2900 passengers.  Carnival Freedom passengers tend to be Younger and families and Mostly American with Europeans in the Med. When all cabins have double occupancy, the ship provides a space ratio of 37 tons per passenger and a crew to passenger ratio of one for every 2.6 passengers. At full capacity the space ratio is 29.6 tons per passenger and the crew ratio is one to 3.2 passengers.
+

+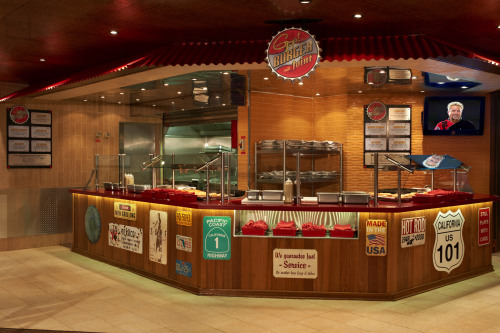 You've got a foodie in you — everyone does! Awaken and delight yours on a Carnival cruise with delicious main dishes, tempting desserts and general yumminess everywhere you look. You can sample great food from all over the world. They've got everything from a specialist steakhouse to 24-hour pizzas and complimentary, round-the-clock room service. And if that isn't quite enough to satisfy your appetite, you can treat yourself to a multicourse VIP dinner at the Chef's Table. It's an eating experience you'll never forget.
+

Here's your chance to dip a toe into onboard entertainment, activities, bars and more… so that when you cruise, you're ready to dive headfirst into the fun.
+
Carnival onboard Health & Fitness facilities include sports events, a gym, as well as a spa and beauty salon.
+

Every Carnival ship caters for children of all ages and that includes Camp Carnival Night Owls, so you can enjoy an evening together without the kids.
+

+