ship : Boudicca
From
£2,399
per person
Reference - 91996
enquire
Authentic India w/ Abu Dhabi and Sri Lanka Stays & Flights
Departure Date: 3rd October 2018
Duration: 18 Nights
Fly from UK to Abu Dhabi where you will stay 1 night in a central hotel before you embark on the fantastic Fred Olsen Boudicca Ship (ALL INCLUSIVE WITH GRATUITY). you will then set sail to Dubai, United Arab Emirates (overnight); Porbandar, India; Mumbai, India (overnight); Marmagoa, India; Cochin, India (overnight); Trivandrum, India; Colombo, Sri Lanka (overnight) before you disembark and stay 2 Nights in Colombo, Sri Lanka and then fly back to the UK.

Named after the heroic warrior queen of the British Iceni tribe, Boudicca is a sleek and stylish cruise ship that features a number of large rooms and suites providing ultimate comfort for a relaxing cruise holiday.  Boudicca passengers tend to be 50+ and Mainly British. When all cabins have double occupancy, the ship provides a space ratio of 32.3 tons per passenger and a crew to passenger ratio of one for every 2.8 passengers. At full capacity the space ratio is 31.5 tons per passenger and the crew ratio is one to 2.8 passengers.
+

+
The main dining room is split into three restaurants, Four Seasons, Tintagel and Heligan. All offer open seating for breakfast and then two set-time sittings for lunch and dinner. Four Seasons is the largest of the three, offering gourmet meals. Tintagel is an intimate and cosy restaurant providing the same menus as Four Seasons. Heligan is named after the lost gardens recreated in Cornwall and provides more formal dining in an intimate setting.
+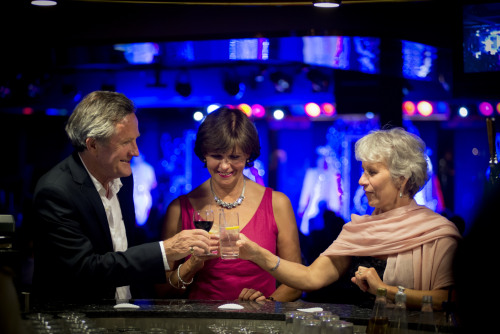 Entertainment onboard Boudicca is varied with large selection of lounges, each with their own atmosphere. From live comedians to card rooms, you're bound to find something to entertain yourself whilst onboard, whether you're looking to have some fun, or just relax for a bit.
+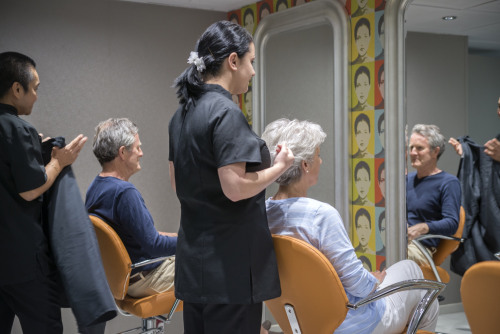 A selection of health, fitness, beauty and relaxation areas are available onboard. From The Atlantis Spa & Salon to the state-of-the-art Fitness Centre, where you can work up a sweat in one of the many fitness classes on offer.

+

During the Easter, summer and Christmas holidays only, Fred Olsen offer organised and hosted children's activities, subject to a minimum number of children booked on the cruise. Children's club supervise children from age 5-11, with Children's hosts arranging meet and greets with parents and children when they embark.
Children's clubs offer a wide range of activities including games, contests, scavenger hunts, sports and fitness instruction, arts and crafts, cooking and children's parties.
+
+