Alaska Cruise with Rockies Train + Chicago & Seattle Stays
Departure Dates: May - Sep 2018 & 2019
Duration: 13 nights
This wonderful cruise holiday offer includes a full board Inside Passage with Glacier Bay Alaska Cruise onboard The Ruby Princess; it also includes hotel stays in Chicago and Seattle, a train journey onboard the famous Empire Builder through Minnesota, North Dakota, Rocky Mountains and Glacier National Park (Full board private roomette with meals included) as well as the flights from UK.
Your tour begins in Seattle where you'll spend a night in a central hotel with Pike Place Market, the Space Needle, and Pioneer Square only steps from your doorway. Explore the thriving music and theatre scene, vibrant galleries or relax at one of the hundreds of cafés before embarking onboard the Ruby Princess and setting sail to Juneau, the state capital; Skagway; Glacier Bay (Cruising) and Ketchikan. The final visit will be to Victoria (British Columbia), before returning to Seattle where you'll disembark the ship in the morning and board the Empire Builder Train in the Afternoon travelling through the US Rockies to Chicago (Own private room and all meals included). You'll be traveling through Minnesota, North Dakota, The Rocky Mountains and Glacier National Park before arriving in Chicago. You'll be staying for two nights in a central hotel, giving you ample time to explore all that Chicago has to offer, from Navy Pier and the spectacular lakefront to Magnificent Mile shopping, world-class parks, museums and much more. Transfer to Chicago airport for your flight back home.
Empire Builder Experience:
Just a few generations ago, the route of the Amtrak Empire Builder was wilderness, roamed by Native Americans and buffalo. Later, fur traders and gold miners visited it. And still later, it was developed by merchants, timber men, farmers and - most dramatically - by railroaders. The Empire Builder's historic 2,206 mile journey takes you from Chicago to Seattle through unforgettable, jaw-dropping scenery of the majestic North and Pacific Northwest of the United States. You will have a private room and all of your meals included. You'll be traveling through Minnesota, North Dakota Rocky Mountains and Glacier National Park before arriving in Chicago. The floor to ceiling glass windows will ensure that you won't miss any of the spectacular Scenery. Delicious meals are available in the Dining Car, or lighter fare is available in the Sightseer Lounge car.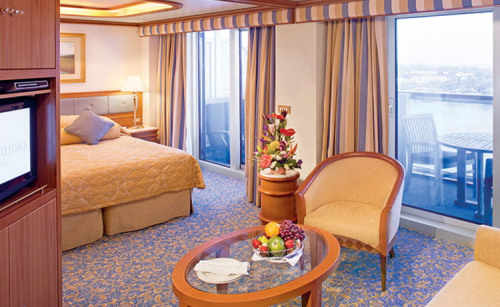 Ruby Princess is impressive featuring spacious interiors and a wide range of attractive public rooms and intimate places. It offers plenty of activities for adults and children alike and easily seems to absorb the large number of passengers carried.  Ruby Princess passengers tend to be Mixed Ages and American and British depending on region and ship.. When all cabins have double occupancy, the ship provides a space ratio of 36.6 tons per passenger and a crew to passenger ratio of one for every 2.6 passengers. At full capacity the space ratio is 29.7 tons per passenger and the crew ratio is one to 3.2 passengers.
+
+
The Princess chefs are true culinary artists who insist on serving the very finest cuisine - and it shows. The entire fleet has been inducted into the prestigious Chaîne des Rôtisseurs gastronomic society. Each chef's menu is creative and the selections change every day. Pair that with impeccable service and you're in for an unforgettable gourmet experience.
+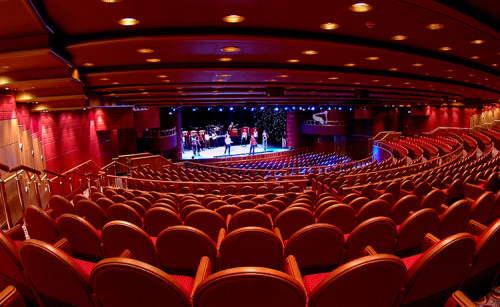 To say the night-life on-board is entertaining is an understatement. Illuminating the stage in captivating productions, Princess Cruises performers are some of the most talented musicians, singers and dancers at sea. Our Princess Signature Shows, lounge performers, movies and casinos are just some of the entertainment our guests enjoy as they escape completely.
+

The many activities on-board our ships are designed to stimulate, educate, entertain, inspire and sweat - not necessarily in that order. But, guests can be sure crew onboard will do their best to cover all the bases. From art auctions to The Sanctuary Spa, this ship is loaded with fun things to do.
+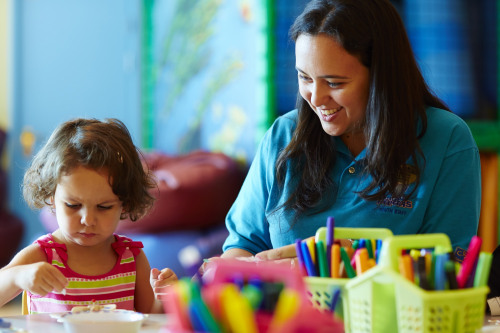 Passengers ages 3 to 17 will enjoy many exciting on-board activities. The Youth Centres and Teen Lounges are staffed by experienced counsellors, who are ready to ensure the youngest cruisers stay happy all day long. There's everything from art projects, game tables, the latest movies, pizza parties, talent shows, video games, and much more.

Children under the age of 3 are welcome to visit the Youth Centre, if accompanied and supervised by a parent at all times.
+
+