ship : Carnival Splendor
From
£1,199
per person
Reference - 37477
enquire
Mexican Riviera Cruise with Las Vegas & Los Angeles Stays
Departure Dates: Jan 2018 up until Apr 2019
£1,199pp - 1, 8, 15, 21, 29 Apr 2018 | 21 Oct 2018 | 4, 18 Nov 2018 | 3, 10, 17, 24 Feb 2019 | 3, 10, 17, 24, 31 Mar 2019 | 7, 14 Apr 2019
£1,299pp - 6, 11, 18, 25 Feb 2018 | 4, 11, 18,25 Mar 2018  | 6, 13, 19 27 May 2018 |
£1,399pp -  3, 10, 17 23 June 2018 | 1, 8, 15, 22, 28 July 2018 | 5, 12 Aug 2018 | 2, 9, 16, 22, 30 Sept 2018 | 9, 16, 23, 31 Dec 2018 | 20, 27 Jan 2019
Duration: 14 nights
Cruise along the Mexican Riviera for a festive 7-day vacation. In Cabo San Lucas, be sure to visit El Arco, a stunning rock formation. The beaches in Mazatlan will take you to paradise while you enjoy local, authentic fare. Each port on a Mexican Cruise is filled with fun and adventure including kayaking, zip lining, swimming with dolphins, scuba diving and much more. You're never far from a beautiful beach or a good party in Carnival's cruises to Mexico!
Infinity Cruises are pleased to offer this exclusive 14 night 3 holidays in 1 offer which includes full board Cruising from Los Angeles to the Mexican Riviera onboard the Carnival Splendor; it also includes hotel stays in Las Vegas and in Los Angeles as well as all the flights. Prices now starting from just £1,199 per person
Fly from the UK to Las Vegas and stay for four nights in the central strip area followed by a short flight to Los Angeles where you'll stay for two nights in Long Beach before embarking onboard the Carnival Splendor and setting sail to Cabo San Lucas, Mexico; Mazatlán, Mexico; Puerto Vallarta, Mexico and back to Los Angeles where you'll disembark the ship for your overnight flight back to the UK.
Take a look at what's Included: 
Return flights from the UK & Internal flight
4 nights Hotel stay in Las Vegas
2 nights Hotel Stay in Los Angeles
7 nights Mexican Riviera Cruise aboard the Carnival Splendor

Carnival Splendor is the only Splendor Class ship in the fleet. It is the 4th largest Carnival ship and features extensive public rooms offering the ultimate playground to over 3000 passengers.  Carnival Splendor passengers tend to be Younger and families and Mostly American with Europeans in the Med. When all cabins have double occupancy, the ship provides a space ratio of 37.7 tons per passenger and a crew to passenger ratio of one for every 2.6 passengers. At full capacity the space ratio is 30.5 tons per passenger and the crew ratio is one to 3.2 passengers.
+

+

You've got a foodie in you — everyone does! Awaken and delight yours on a Carnival cruise with delicious main dishes, tempting desserts and general yumminess everywhere you look. You can sample great food from all over the world. They've got everything from a specialist steakhouse to 24-hour pizzas and complimentary, round-the-clock room service. And if that isn't quite enough to satisfy your appetite, you can treat yourself to a multicourse VIP dinner at the Chef's Table. It's an eating experience you'll never forget.
+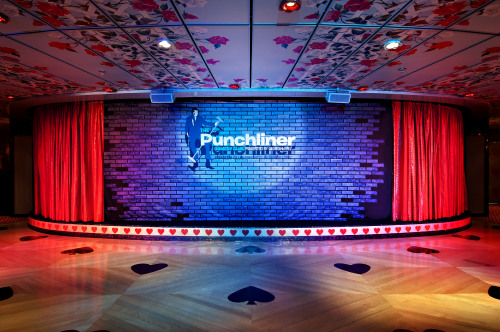 Here's your chance to dip a toe into onboard entertainment, activities, bars and more… so that when you cruise, you're ready to dive headfirst into the fun.
+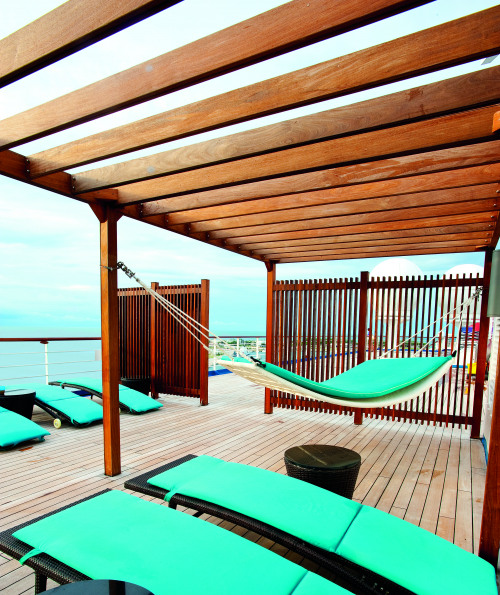 Carnival onboard Health & Fitness facilities include sports events, a gym, as well as a spa and beauty salon.
+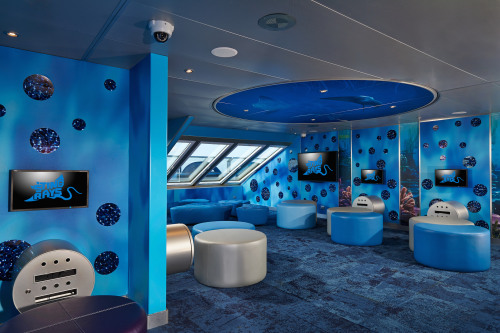 Every Carnival ship caters for children of all ages and that includes Camp Carnival Night Owls, so you can enjoy an evening together without the kids.
+

+